Ghost Tours, Ghost Stories, Haunted Buildings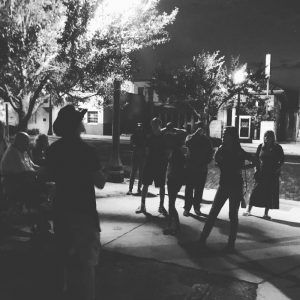 During our ghost tours, prepare to be amazed with tales old and new of ghostly experiences in the downtown area of Sanford, culminating with a walk to an actual haunted building!
This 90-minute tour led by an expert guide allows you to learn historical stories gathered from the people who lived in Sanford themselves. Incorporated in 1877, the stories of Sanford's past residents and those still lurking around are plentiful. Please keep in mind that we are NOT ghost hunting! Tours start at 7:00 PM.
Download the Sanford Visitors Guide and Food & Drink Map of Historic Downtown Sanford, Florida.
Sanford Ghost Tours was started in 2011 by Gary Holmes as he uncovered several stories from the local residents of ghostly encounters.  These stories were not only fun but painted a picture of some of our previous residences.  He quickly learned all he could about the previous residents and the many hauntings in the historic downtown buildings. And now, you too can enjoy some history and hauntings here in the Historic Downtown Sanford area.
COVID-19 UPDATE: Our priority is to keep our guests and our tour guide safe during this time. To continue hosting our tours, the following updates are in practice: If you have tested positive or have symptoms associated with Covid-19, we kindly ask that you not participate in this tour. We ask that you respect other people's space during the tour if they are not part of your group. The cancellation policy has been updated – you have 24 hours to cancel your tour before the start time for a full refund.