Craft Beer Tours w/ Some History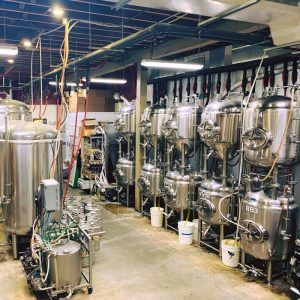 This popular guided experience provides you the opportunity to experience the district's popular east side craft breweries while learning about the city's tumultuous history of prohibition in Sanford, FL.
BJCP Certified Beer Judge, Gary Holmes, is our expert guide on this tasting tour.
Savor a curated selection of beers from Sanford's award-winning breweries and talk shop with our registered "beer nerd". Our tours are kept to minimum group size to make your experience more engaging and personable plus we want to ensure we can afford the time to answer everyone's questions! Tour begins at 3:00 pm on Saturday and 4:00 pm on Sunday.
Learn about and sample beer* from three revered establishments in the district: Celery City Craft, Sanford Brewing Company, and Wop's Hops Brewing Company. This 90-minute walking tour starts at one section of town and walks to another, so plan accordingly.
*Beer samples are included as part of this tour. Everyone on the Craft Beer & History Tour must be 21 and older to participate in this tour. A valid government-issued ID is required as proof of age.
Download the Sanford Visitors Guide and Food & Drink Map of Historic Downtown Sanford, Florida.
COVID-19 UPDATE: Our priority is to keep our guests and our tour guide safe during this time. To continue hosting our tours, the following updates are in practice: If you have tested positive or have symptoms associated with Covid-19, we kindly ask that you not participate in this tour. We ask that you respect other people's space during the tour if they are not part of your group. The cancellation policy has been updated – you have 24 hours to cancel your tour before the start time for a full refund.